Join Namirial in Swisscom Webinar with Police Zug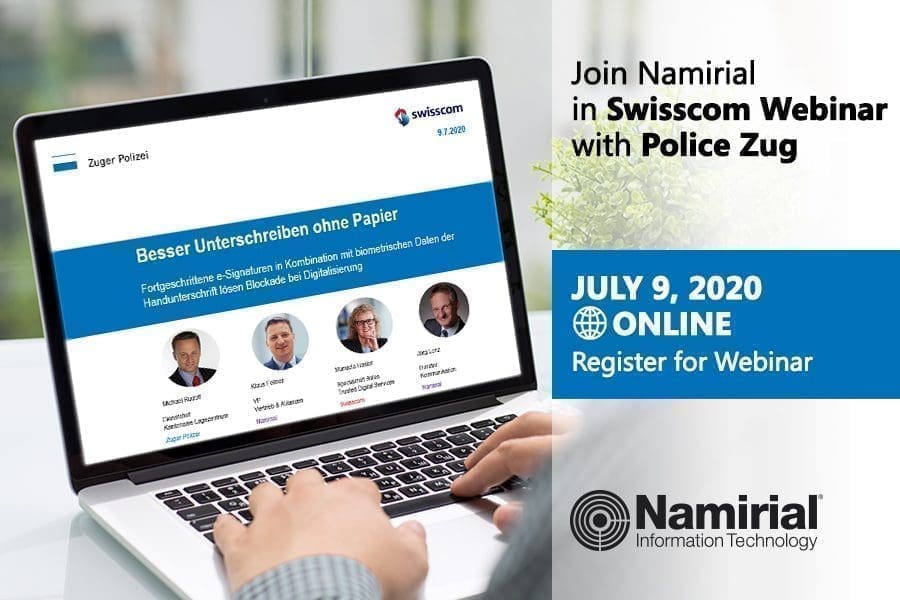 July 09, 2020
🌐 Online
Police Zug is one of the pioneers among the Swiss police organizations in extensive digitization of their processes in which signatures are required.
In this webinar, Michael Rudolf, head of the cantonal situation center of the Zug police, will show how the Police Zug have integrated various methods of generating electronic signatures into their processes and a system for processing the police. He will focus in particular on the need to use advanced electronic signatures in law enforcement.
In this webinar, Michael Rudolf is supported by experts from the two trust service providers Swisscom Trust Services (Manuela Hasler) and Namirial (Klaus Fellner and Jörg Lenz). The two providers teamed up to integrate handwritten signatures in forensically evaluable form into legally binding digital processes. The combination of biometrics and cryptography enables all processes to be fully digitized for which qualified electronic signatures are not practicable. Michael Rudolf shows how in many cases this form of signature can make paper-based signature processes for the Confederation, cantons and communes superfluous.
Learn more about:
Project areas – including Police hearings
Legal framework for the use of electronic signatures
Practicability use of qualified electronic signature – employees vs. clients
Evidence in handwritten data and in signed documents
Capture the signature for forensic analysis for review by typists
Integration in workflow and system architecture
Measurable benefits through the use of electronic signatures
Webinar will be presented in German language