Access Webinar Recording Best Practices in Digital Signature in Austria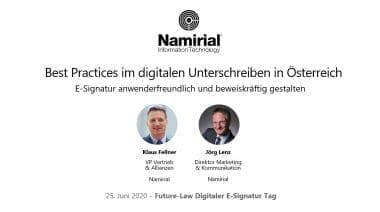 Presentation "Best Practices in Digital Signing in Austria – Making E-Signatures User-Friendly and Evidence-Proof" – presented on Future-Law Digital E-Signature Day 2020 – in German language
Based on specific, long-term experiences with our customers in Austria and all over the world, Klaus Fellner and Jörg Lenz provide insights into:
Rapid identification of requirements depending on the application and signature scenarios
Answers to challenges from Covid-19
Designing the processes – as simple and as possible and as conclusive as necessary
Compliance with regulations with the best possible user experience
Our customers' supplier selection criteria
The DNA of successful e-signature projects – know and avoid typical stumbling blocks
ROI calculation – with results from practice
Future-Law is Austria's leading independent platform for legal tech and digitization in the legal field. The "Digital E-Signature Day" is an information event for Austrian companies seeking to implement electronic signatures into their processes or improving their adoption. The event is addressing decision makers in the departments of law, human resources, sales and everywhere else where conclusive and legally binding declarations of intent are required.