Patria Bank and Namirial expand partnership to cover remote digital onboarding and non-lending products acquisition as well as internal document signing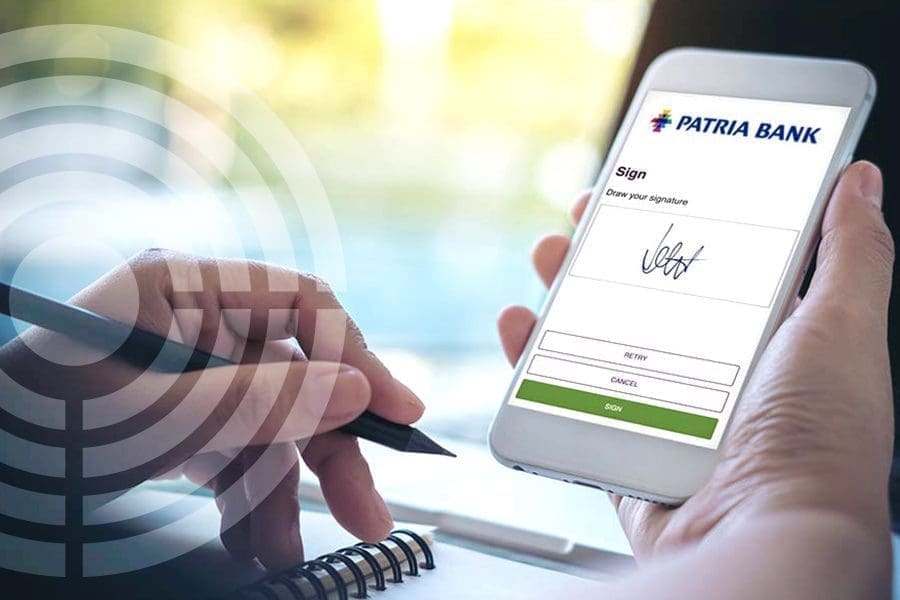 (BUCHAREST) – June 7, 2021: Namirial, a leading Trust Service Provider that offers solutions which empower organizations to digitally transform their business processes based on Digital Trust Services, has announced today an expansion of the partnership with Patria Bank which started a few years ago. The customers of Patria Bank will soon be able to open an account and acquire non-lending products 100% online through Patria Bank digital platform and Namirial's eIDAS compliant LiveID+ video onboarding solution and the eSignAnywhere Digital Transaction Management platform, complemented by Qualified Electronic Signatures.
Patria Bank continues its digital transformation process by implementing secure and trusted solutions which offer to its new and existing customers with simpler and innovative ways to reach the products and services that the bank offers; in addition, the employees of the bank can make use of the signing platform and the qualified certificates to sign internal documents as well as documents with the bank's partners and suppliers.
"In Patria Bank we build long term partnerships with partners that provide high class service over time, up to date technology, friendly with the customers and in line with regulations. We are glad to expand our partnership with Namirial for a next level service soon to be ready to all people looking for simple and remote access to financial services, no matter the area they live in, urban or rural. The partnership will further evolve to support customers' full digital journey and experience in managing their financial life." stated Valentin Vancea, COO, Member of the Management Board at Patria Bank.
"We are delighted by the trust that the Patria Bank team put into the partnership with Namirial and its confidence that we can bring expertise (both local and international) and innovative solutions to benefit the bank's customers. Building up on the dematerialization process that we started a few years ago with Patria Bank when we implemented the electronic handwritten biometric signatures we are now touching on the remote products and services that the bank offers through our flagship product eSignAnywhere complemented by the LiveID+ remote identification solution and the Trust Services that we offer in Romania under the EU Regulation 910/2014," added Adrian Dinculescu, Managing Director, Namirial Romania.
About Patria Bank
Patria Bank is a Romanian bank dedicated to increasing individuals' access to banking products in Romania and to supporting local entrepreneurs and businesses. Listed on the Bucharest Stock Exchange, Patria Bank has a national footprint and in 2021 will become accessible from anywhere through a wider expansion in digital. Patria Bank Group has as its majority shareholder Emerging Europe Accession Fund (EAF), a private equity fund whose main investors are the EBRD (European Bank for Reconstruction and Development), the EIF (European Investment Fund, part of the European Investment Bank Group), DEG (Development Bank, part of the KFW banking group) and the BSTDB (Black Sea Region Development Bank).
To learn more, visit www.patriabank.ro and follow Patria Bank on LinkedIn and Facebook.
About Namirial
Namirial is a multinational provider of information technology empowering trusted digital transformation. The provision of digital trust services is Namirial core business. Namirial services and solutions are aggregated in a unique platform including applications for identifying and authenticating users, workflows for orchestrating signatures, providing certificates for generating electronic signatures and electronic seals, procedures for long-term archiving, procedures for electronic invoices, and electronic delivery services.
Namirial is certified as a qualified trust service provider under EU Regulation 910/2014 eIDAS, accelerating digitization of private sector and public administration. Together with its international network of over 120 partners, Namirial is serving over one million customers worldwide. The company was founded in 2000 in Senigallia, Italy. Namirial is operating today in 20 locations in five countries, employing 480 people, processing several millions of transactions every day.
To learn more, visit www.namirial.com and follow Namirial on Twitter, LinkedIn and Facebook.
Media Contact
Jörg Lenz
Namirial
Director Marketing & Communication
Email: j.lenz@namirial.com
Phone: +49 174 2409 299