Namirial: New CEO Max Pellegrini strengthens top management team with Roberto Negro (CFO), Soleda Bora (CHRO) and Carlo Salizzoni (Strategy and M&A)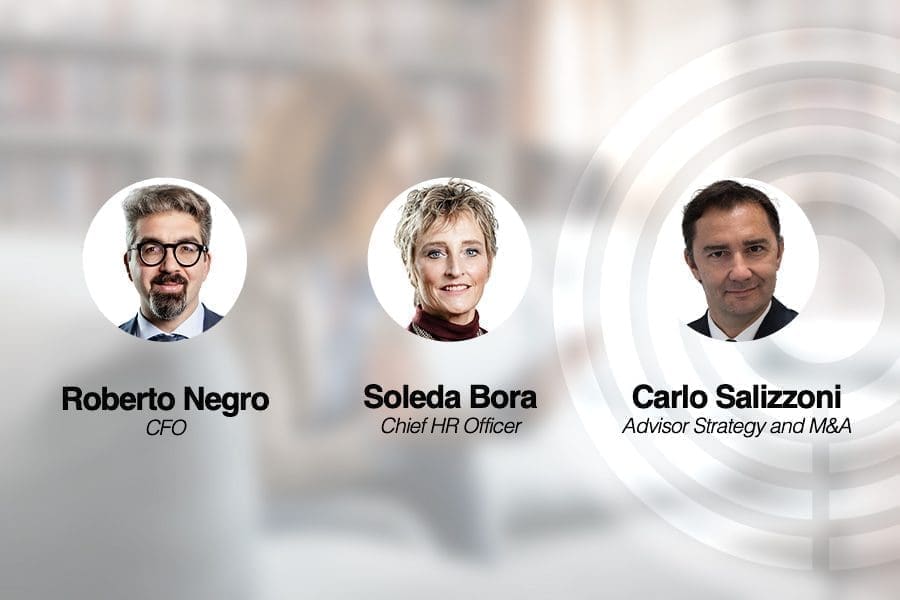 SENIGALLIA – November 26, 2020 – Roberto Negro, Soleda Bora and Carlo Salizzoni have been onboarded as new top management members of Namirial S.p.A. ("Namirial"), a leading provider of software solutions and digital trust services, by recently appointed CEO Max Pellegrini.

Roberto Negro, new Namirial Chief Financial Officer, is joining from Clementoni where he held the position of CFO and CIO, was a board member and used to be responsible for defining IT objectives and strategies. After having worked in Finance & Performance Management and Business Intelligence for Accenture. Roberto has worked in the region also previously, in particular in Fabriano, most recently for Whirlpool where was responsible for EMEA and mandated to harmonize the accounting of shared service centers, defined and supervised accounting procedures and policies as well as managing auditor relationships. Prior to Whirlpool Roberto was working several years for Indesit as a Senior Manager Group Consolidation and Compliance.

Soleda Bora, new Namirial Chief Human Resources Officer, is responsible for developing the talent acquisition and career development strategy. Soleda is bringing over 25 years of experience in the field of Human Resources to the Namirial table. She used to specialize in strategic talent management in complex multinational environments. In the previous companies Soleda worked for she executed the role of HR as business sparring partner during their evolutions and transformations. Prior to joining Namirial, Soleda held senior roles in both HR and business in leading FMCG, digital transformation and strategic advisory companies, such as Econocom, CEB / Gartner, British American Tobacco and SHL.

Carlo Salizzoni, new Namirial Advisor on Strategy and M & A, is bringing a wide range of international expertise into Namirial management. He is operating as an Executive Advisor for Ambienta SGR S.p.A. ("Ambienta"), Europe's largest sustainability focused private equity investor and Namirial's major stakeholder. One of Carlo's initiatives is the implementation of a Value Creation Plan. Carlo started his career with Accenture and DHL Group in the role of a business consultant. After an MBA from Insead, Carlo moved to London in 2007, where he worked for t Alvarez & Marsal as a Senior Associate. In 2010 he joined AlixPartners in the role of a Vice President performing transformation work, mostly for portfolio companies of large Private Equity funds. Five years later he moved back to Italy, taking over the role of strategy and business development in the Coesia Group. In 2015 Carlo founded GoodBuyAuto.it, the first tech scale-up in Italy of quality used cars delivered with eCommerce.
"I am proud – said Namirial CEO Max Pellegrini – to have strengthened the company's top management team in onboarding Roberto, Soleda and Carlo. They will certainly support with their significant experience the path we have taken in consolidating the team. Especially in this phase of great uncertainty and change, having a strong and versatile team is an essential element to be successful. Being able to count on managers who know how to combine the disciplines of origin with expertise close to the world of Digital Transformation is an excellent starting point in order to pursue the ambitious business goals that we have already set ourselves this year ".
About Namirial
Namirial offers a wide range of digitization solutions, including customer identification, authentication, electronic signature, electronic seals and related certificates, handwritten biometric signature, certified electronic mail, electronic invoicing and solutions for long-term archiving and document management. Namirial also offers software and services for accounting, HR, tax handling, construction and cyber defense. Namirial is certified as a qualified trust service provider pursuant to EU Regulation 910/2014 eIDAS. The company, based in Senigallia, with its 440 employees, through offices in 5 countries and 100 international partners, serves millions of end users around the world, from large companies to small and medium-sized enterprises and professionals.
For further information please visit www.namirial.com
About Ambienta
Ambienta is a sustainability-focused European asset manager with AUM of ca. €1.5 billion, and a leader in applying environmental sustainability trends to investing. Operating out of Milan, London, Paris and Düsseldorf, Ambienta is focused on investing in private and public companies driven by environmental megatrends. In private equity markets, Ambienta manages the world's largest capital pool for this strategy and has completed thirty-eight investments throughout Europe in the areas of resource efficiency and pollution control. In public equity markets, Ambienta has pioneered the world's first absolute return fund entirely focused on environmental sustainability.
For further information please visit www.ambientasgr.com
Media Contacts
Jörg Lenz
Namirial
Director Marketing & Communication
Phone: +49 174 2409 299
Email: j.lenz@namirial.com