Namirial Named a Leader in Aragon Research Globe™ for Digital Transaction Management for Third Consecutive Year
(SENIGALLIA) – December 19, 2018 – Namirial, a leading supplier in trusted software and services to automate and digitally transform business processes, today announced Aragon Research identified Namirial as a Leader in the Aragon Research Globe™ for Digital Transaction Management, 20191 . This is the third consecutive year Namirial has been named a Leader in the DTM Globe report.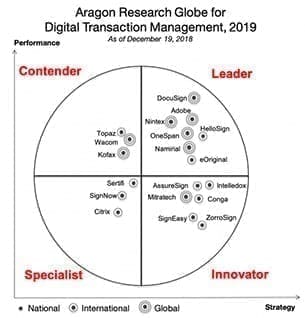 The new report identifies and evaluates major DTM technology vendors Aragon views as key to enabling enterprises to manage their digital transactions. According to Aragon, Digital Transaction Management (DTM) is a category of primarily cloud-based software and services used to digitally manage a wide range of document-centric business processes involving people, documents, data, and transactions both inside and outside the firewall. Digital Transaction Management encompasses identification, authentication, e-signatures, security, and asset management.
The Aragon Research Globe for Digital Transaction Management is segmented into four sectors (leaders, contenders, innovators and specialists), representing high and low on both product and service performance as well as strategy dimensions. Namirial is positioned as Leader for the third year in a row, progressing again in its position in both performance and strategy.
According to the report, Namirial strengths include its "complete, fully integrated eSignature portfolio" as well as "handwritten biometric authentication" among other areas.
Aragon's research forecasts the Digital Transaction Management market will grow over 25% annually. "We are very pleased to be recognized once more as a leader in this market and recognized for combining ease of use with trustworthiness with advanced capabilities for Digital Transaction Management" said Luigi-Enrico Tomasini, Chief Executive Officer of Namirial. "We can confirm Aragon's reflection about the growing global impact of EU Regulations and Directives. eIDAS and GDPR raised demand for trust, security and privacy in Digital Transaction Management solutions. Thanks to our full suite of trust services and broad portfolio of software and services our customers can achieve faster business outcomes without compromising compliance, security or privacy. They also significantly simplify digital customer journeys and employee journeys."
⬇️ Download Aragon Research Globe™ for Digital Transaction Management, 2019 now
About Namirial
Namirial is a global leader in trusted security for Digital Transaction Management with solutions for electronic identification, multi-factor authentication, digital certificates, electronic signatures and seals, electronic invoicing, registered delivery and long-term archiving. The company has been certified for many products and services including as an eIDAS Qualified Trust Service Provider. Namirial employs more than 350 people and is processing several millions of transactions every day. In addition to offices throughout Italy the Namirial Group runs subsidiaries in Austria, Brazil, Germany and Romania.
About Aragon Research
Aragon Research is an independent research and advisory firm providing business and IT executives with the actionable insights they need to navigate technology's ever-evolving impact on business.  Aragon Research delivers high-impact visual research, consulting, and advisory services to provide enterprises the insight they need to make better technology and strategy decisions. Aragon Research serves business and IT leaders and has a proven team of veteran analysts. For more information, visit aragonresearch.com.
Disclaimer
Aragon Research does not endorse vendors, or their products or services that are referenced in its research publications and does not advise users to select those vendors that are rated the highest. Aragon Research publications consist of the opinions of Aragon Research and Advisory Services organization and should not be construed as statements of fact. Aragon Research provides its research publications and the information contained in them "AS IS," without warranty of any kind.
________________________________
1 Aragon Research "The Aragon Research Globe™ for Digital Transaction Management, 2019" by Jim Lundy, December 2018.