Namirial Recognized as a Major Player in the IDC MarketScape Worldwide eSignature Software 2021 Vendor Assessment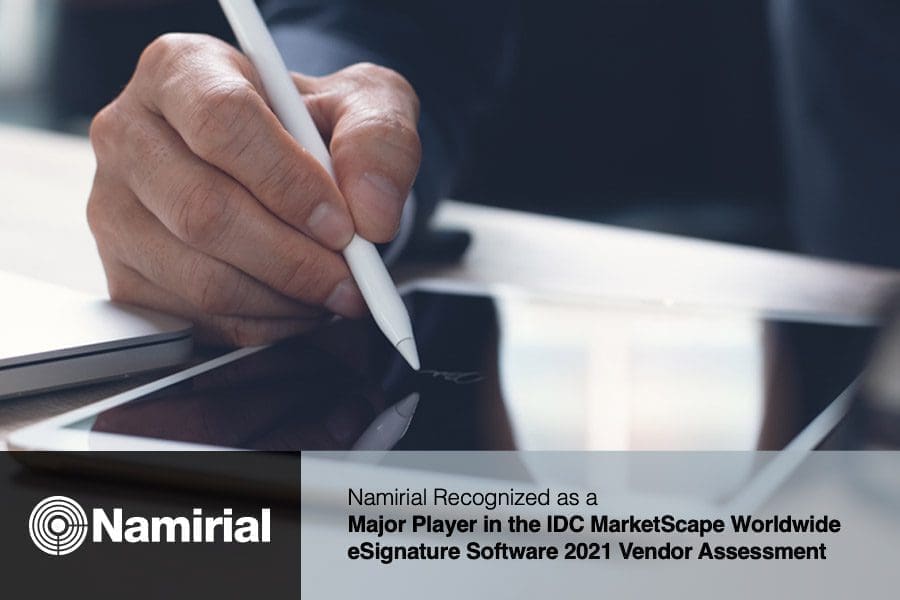 (PALO ALTO / SENIGALLIA) – October 6, 2021 – Namirial, a leading supplier in trusted software and services to automate and digitally transform business processes, has been announced as a Major Player in the IDC MarketScape: Worldwide eSignature Software 2021 Vendor Assessment1.
The IDC MarketScape report by Holly Muscolino, Research Vice President, Content Strategies and the Future of Work identifies and evaluates 14 major technology vendors. The report is categorizing them into four categories (leaders, major players, contenders, and participants) and is profiling highs and lows on both strategy and capabilities performance.
"We are pleased to be named a Major Player in the IDC MarketScape for Worldwide eSignature Solutions and being recognized for our one-stop-shop digital transaction management offerings, thanks to the breadth and depth of our portfolio" said Max Pellegrini, Chief Executive Officer of Namirial.
"As a response to Covid-19 pandemic, many organizations adopted basic digital transaction management solutions as quick fixes for a few use cases. In 2021 many companies are investigating enterprise-wide standard solutions, replacing their silo solutions. With pandemic restrictions easing in many countries, we are seeing organizations aggressively addressing digitization of branch-based and omnichannel sales, requiring a broad range of capabilities to support omnichannel requirements. Namirial has proven to be able to meet even the most complex technical and compliance requirements in highly regulated industries."
About IDC MarketScape
IDC MarketScape vendor assessment model is designed to provide an overview of the competitive fitness of ICT (information and communications technology) suppliers in a given market. The research methodology utilizes a rigorous scoring methodology based on both qualitative and quantitative criteria that results in a single graphical illustration of each vendor's position within a given market. IDC MarketScape provides a clear framework in which the product and service offerings, capabilities and strategies, and current and future market success factors of IT and telecommunications vendors can be meaningfully compared. The framework also provides technology buyers with a 360-degree assessment of the strengths and weaknesses of current and prospective vendors.
About Namirial
Namirial is a multinational provider of information technology. The provision of solutions for trusted digital transaction management is Namirial core business. These solutions aggregated in a unique platform include applications for identifying and authenticating users, workflows for orchestrating signatures, providing certificates for generating electronic signatures and electronic seals, procedures for long-term archiving, procedures for electronic invoices, and electronic delivery services.
Namirial is certified as a qualified trust service provider under EU Regulation 910/2014 eIDAS, accelerating digitization of private sector and public administration. Together with its international network of over 120 partners, Namirial is serving over one million customers worldwide. The company was founded in 2000 in Senigallia, Italy. Namirial is operating today in 20 locations in five countries, employing 500 people, processing several millions of transactions every day.
To learn more, visit www.namirial.com, follow Namirial on Twitter, LinkedIn and Facebook, contact Namirial to schedule a demo or claim a free trial of Namirial eSignature solution eSignAnyWhere.
Media Contact
Jörg Lenz
Namirial
Head of Marketing & Communication
Email: j.lenz@namirial.com
Phone: +49 174 2409 299
________________________________
1 IDC, IDC MarketScape: Worldwide eSignature Software 2021 Vendor Assessment by Holly Muscolino, Doc US46742320, September 30, 2021 – https://www.idc.com/getdoc.jsp?containerId=US46742320