Namirial Recognized as a Large Provider in Now Tech: Digital Signature And Trust Services, Q1 2021
Namirial is categorized as large vendor in segment of digital trust services platforms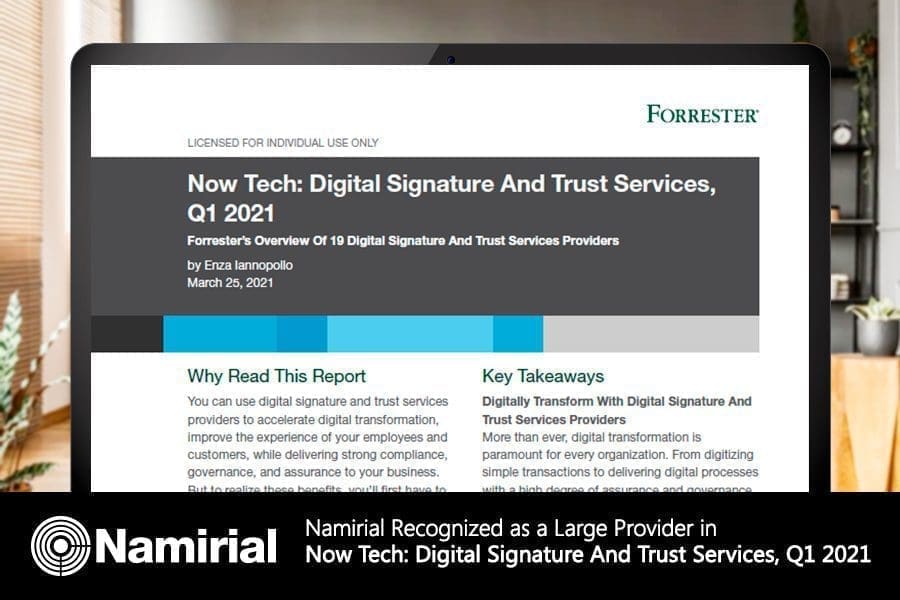 (SENIGALLIA) – March 25, 2021: Namirial, a leading solution provider to empower organizations to digitally transform their business processes based on Digital Trust Services, announced that it has been recognized in Forrester's Now Tech: Digital Signature And Trust Services, Q1 2021"1.
Forrester defines the digital signature and trust services providers market as: "Products and services that enable the digital transformation of business processes and operations that require a legally binding agreement between parties, whose digital identities have been previously attributed and contextually verified."
The report is designed to help security and risk professionals understand the value they can expect from digital signature and trust services providers. It is also designed to help professionals selecting a vendor based on their respective expertise and capabilities. The report provides an overview of 19 providers based on market presence and functionality. Namirial was allocated in the segment of large providers.
Forrester is categorizing the digital signature and trust services market into four segments, each with varying capabilities. Namirial is categorized into the segment of digital trust platforms, digitizing processes with added governance and compliance. Vendors in this group, also referred to as "qualified trust services providers," comply with the requirements of the European electronic identification and trust services regulation and offer a range of qualified services to support the needs of customers that require a high level of assurance. The other segments are digital transformation platforms, e-signature specialists and Public Key Infrastructure (PKI) specialists.
As the report, authored by Forrester analyst Enza Ianopollo, states: "Clients must focus on the vendors that meet their specific needs, looking at the details of their offerings in terms of product functionalities, related services, and the level of identity and process assurance they offer." Several months ago, Namirial was included in Forrester report "The Time For A Digital Signature Is Now"2, which mentioned some of its capabilities such as
Supporting evolving digital transaction management use cases in offering video-based consulting on documents
Delivering on CX and business outcomes via fully flexible deployment options to support digital engagement with a wide range of services and a white-labelled solution
Supporting compliance across a number of regulatory requirements with its PSD2-compliant Strong Customer Authentication Platform
"We are proud to be recognized as a 'large provider' in Forrester's Now Tech: Digital Signature And Trust Services Q1 2021 report. We remain relentless in our commitment in supporting our clients with their overall digital strategy, helping them to digitize and improve their existing business processes in a secure and trustworthy manner, as well as embarking on new innovative business. Namirial is welcoming our clients challenging our capabilities on consulting, technology and process orchestration in order to meet their evolving use cases", said Max Pellegrini, Namirial CEO. "Our daily mission is making simplicity meet security and compliance".
Integration with Namirial eSignAnywhere enterprise digital trust services platform is enabling all stakeholders to sign transactions without paper anytime anywhere on any device. Namirial digital trust services are supporting organizations in both private sector and public administration for more than a decade in digitizing and accelerating their onboarding and agreement processes. Enterprises and public authorities rely on Namirial solutions for identification, authentication, and non-repudiable proofs of intent, compliant to national law and multinational regulation such as EU-Regulation 910/2014 eIDAS. Using Namirial simplifies their processes without compromising compliance. Namirial customers have been reducing acquisition costs and increasing customer and citizen satisfaction.
________________________________
1 Forrester Report "Now Tech: Digital Signature And Trust Services, Q1 2021" by Enza Ianopollo, March 25, 2021
2 Forrester Report "The Time For A Digital Signature Is Now" by Enza Ianopollo, August 25, 2020
About Namirial
Namirial is a multinational provider of information technology empowering trusted digital transformation. The provision of digital trust services is Namirial core business. Namirial services and solutions are aggregated in a unique platform including applications for identifying and authenticating users, workflows for orchestrating signatures, providing certificates for generating electronic signatures and electronic seals, procedures for long-term archiving, procedures for electronic invoices, and electronic delivery services.
Namirial is certified as a qualified trust service provider under EU Regulation 910/2014 eIDAS, accelerating digitization of private sector and public administration. Together with its international network of over 120 partners, Namirial is serving over one million customers worldwide. The company was founded in 2000 in Senigallia, Italy. Namirial is operating today in 20 locations in five countries, employing 480 people, processing several millions of transactions every day.
To learn more, visit www.namirial.com and follow us on Twitter, LinkedIn and Facebook.
Media Contact
Jörg Lenz
Namirial
Director Marketing & Communication
Email: j.lenz@namirial.com
Phone: +49 174 2409 299