Jobrouter: Integrated Solution for Legally Binding Electronic Signature with Namirial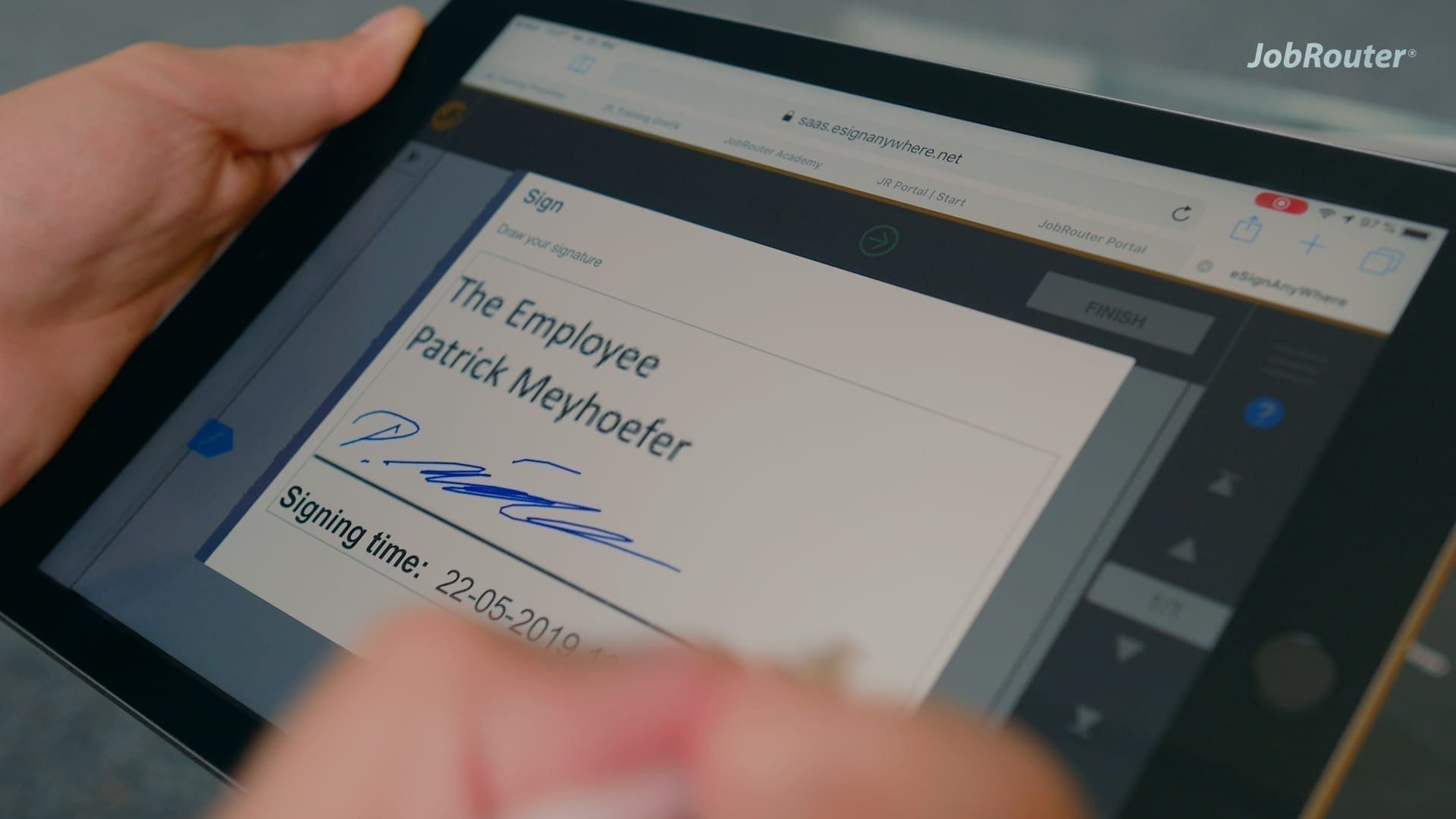 Mannheim (Germany) / Senigallia (Italy) – June 6, 2019 – JobRouter, a global provider of a cross-industry platform for business process digitization and automation, is now offering an integrated solution for compliant electronic document signing. JobRouter Sign allows users to sign digitally with significant evidence anywhere, any time on any device. JobRouter users can orchestrate directly out of the business process to have internal and external contacts sign documents electronically using different techniques. In cooperation with Namirial, a qualified trusted service provider according to EU regulation 910/2014 eIDAS, documents can also be provided with advanced or qualified electronic signatures.
Electronic signatures speed up business processes, reduce costs, relieve paperwork burdens on employees and are offer last, but not least, a much better customer experience. With JobRouter Sign, paperless signing can be triggered from any business process within the JobRouter Digital Process Automation (DPA) platform. JobRouter Sign combines document management, audit-proof archiving and agile release management with flexible rights and role management, creating end-to-end digital processes. Furthermore, signature collection may be fully scheduled and executed from within the JobRouter platform. Idle process times are minimized and automated processes such as sequential or parallel electronic signatures are also possible.
JobRouter Sign is integrated into the JobRouter DPA platform which is available both as Software-as-a-Service (SaaS) in the cloud and for deployment in an organization's own data center (on-premise). The basis is provided by Namirial eSignAnyWhere, a signature workflow solution to securely manage digital transactions, used worldwide by leading organizations in both private and public sector, including many banks and insurance companies. The partnership between Namirial and JobRouter is beneficial for all users regardless of the size of their organization or their industry:
"JobRouter Sign enables end-to-end Digital Process Automation. Our customers have many different requirements for a signature solution. It should not only be cost-effective and user-friendly, but also truly trustworthy. They expect to be able to cover the increasingly comprehensive compliance requirements." explains Johannes Leser, Managing Director Namirial Germany.
"This approach convinced us immediately! We were looking for an experienced trust service provider that shared our vision of digital work. Our core idea is to link the process even more closely with the electronic signature. On the one hand, it should be convenient to release and sign important documents; on the other hand, legal requirements and security principles must be adhered to. With Namirial, we found a partner who also understands our low-code philosophy and offers an API that was integrated into JobRouter easily and quickly. Thanks to the integration, we now offer a solution to generate all types of electronic signatures, including qualified e-signatures. This special form of signature is required for example for consumer loan agreements and should also be implemented as easily as possible. This had been a hurdle before now, because there are major differences in trust service provider offerings, especially in provisioning of corresponding certificates.
Moreover we strive to follow best practices in paperless signing ourselves. We will sign our documents electronically wherever possible. Going forward, transactions such as maintenance agreements, partner contracts and non-disclosures will all be signed digitally." confirms Axel Ensinger Co-CEO and Board Member for Product and Technology.
The partnership between Namirial and JobRouter adds security, provides convenience and delivers clarity to all transaction processes where legally compliant signatures are required for customers from a wide range of industries and sizes..
"We are very pleased about the great interest in JobRouter Sign. Since the solution was first presented at the JobRouter Partner Conference on March 21 2019, we have received calls every day from JobRouter Partners. The range of intended applications is enormously broad. We have heard repeatedly about e-signature solutions already in use in some areas of an organization that are considered unsuitable for other use cases because functions are either missing or too difficult to use. For example, certificate provision was experiences as being too cumbersome or signing at point of sale or for employment contracts was experienced as being nearly impossible. With JobRouter and Namirial this is no problem and we are happy to provide corresponding process orchestration consultation.
Additionally, some JobRouter customers have been using solutions where the brand of the signature solution is prominently displayed. They find this annoying and welcome the option of being able to use Namirial "white-labeled", as most Namirial customers do by the way.
Together with JobRouter, we will offer further workshops on electronic signing in order to inform partners and customers in detail. We are also very confident that we will be able to portray specific applications of joint customers at the JobRouter Digital Conference on November 7, 2019 in Heidelberg." comments Johannes Leser, Managing Director Namirial Germany
The seamless link of business processes to electronic signature workflows and processes as implemented by Jobrouter and Namirial, is crucial for successful digital transformation of business processes and public services.
About JobRouter
JobRouter Group is a leading global provider of a cross-industry low-code process automation and digitization platform for customers of all company sizes. JobRouter helps companies to optimize their workflow, archive their data and documents efficiently and digitize their internal and external business processes. The different JobRouter modules also allow expanding and customizing the solutions according to each organization's unique requirements. This gives companies a comprehensive and tailored system with a variety of agile interfaces.
Together with an international network of 170 partners and branches in the USA, UK, Morocco, Turkey, and Poland, JobRouter Group now supplies over 1200 customers worldwide, including leading organizations such as HARIBO, Baptist Health, AMT Senior Aerospace, Euromaster, Thomas Cook, New Seasons Market, Montana State University, University of Bern, Aquarium of the Pacific, Liberty Tire and ZF TRW.
JobRouter Group is headquartered in Mannheim, Germany.
Further information is available at www.jobrouter.com.
Media contact:
Ivana Pejanović
Team Lead Marketing & Communications
Jobrouter AG
+49 621 42646245
ivana.pejanovic@Jobrouter.com
About Namirial
Namirial is a multinational provider of information technology holding many certifications, including being certified as Qualified Trust Service Provider (QTSP) under EU Regulation 910/2014 eIDAS.
Major line of Namirial business are development and provision of products, solutions and services for trusted digital transaction management, including applications to identify and authenticate users, workflows for orchestrate signature acquisition, provision of certificates to generate electronic signatures and seals, services for long-term archiving, processes for electronic invoicing, and electronic delivery services. Namirial supports the digitization of companies in the private sector and in public administration. Together with its international network of over 120 partners, Namirial serves over one million customers worldwide.
Namirial was founded in 2000 at its current headquarters in Senigallia, Italy. Today the group is operating 20 offices in five countries. The most recent addition is the German subsidiary, Namirial Deutschland GmbH, based in Herrenberg near Stuttgart.
Further information is available at www.namirial.com
Media contact:
Jörg Lenz
Director Global Marketing & Communication
Namirial
+49 174 2409299
j.lenz@namirial.com